Water Damage restoration and Crawl Space Cleaning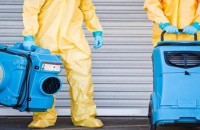 Water damage and crawl space cleaning tasks are not a do-it-yourself job. If done improperly, water damage can lead to a host of problems. Crawl spaces are difficult to clean even under the best of circumstances. These jobs are best left up to experienced professionals that will be able to protect your home, business or other property. You have worked very hard for these investments and a water damage and crawl space cleaning professional can help you protect them.
Most people do not think about their crawl space very much unless they are using it for some reason such as for storage. However, a dirty crawl space in a home can potentially cause serious problems. For example, consider that if you have a crawl space that is vented then keeping that area can have a serious effect of your home. If your crawl space is musty, dirty, or moldy then that potentially toxic air will be forced up into your home. This potential detriment to the health of the residents of your home could be possibly poisoning with a variety of agents harmful to the lungs, including toxic mold spores. We can provide a wide array of services for your crawl space, including the following:
Proper sealing and insulating

Mold and other toxin removal.

Clean-up from flood waters in your crawl space.

Making your crawl space more energy efficient.
This is another area where if you really wanted to you could do the clean-up yourself. However, the old adage "you get what you pay for" rings true here. If you do the clean-up yourself there are many areas where you might miss. You might dry it improperly allowing mold and other bacteria to grow. You might not disinfect or deodorize properly either. Our state-of-the-art equipment will help do the job effectively the first time, minimizing any damage.