Everything's Bigger in Texas, Except Water Damage Cases
They say, "Everything is bigger in Texas." This may be true, but one thing we like to keep smaller are the number of water damage cases.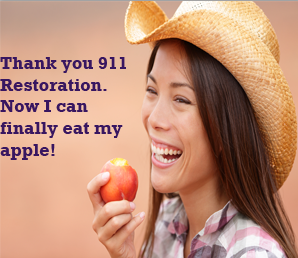 You won't be experiencing floods from the ocean but when pipes burst, this can cause a whirlwind of problems. Going with our Texas slogan, our water damage Fort Worth experts have made it our mission to put a big smile on the faces of residents.
Big Hair is Good, Big Water Repairs are Not
The ladies in Texas are big fans of big hair but they sure aren't fans of big water problems. Imagine a burst pipe or a toilet overflow causing chaos in the home, completely ruining those beautiful locks. At 911 Restoration, we care about hair and that's why we aim to dry out water as quickly as possible. We won't steal your blow-dryer to take care of you water damage. Rather, we prefer the latest drying technology to ensure every inch of water has been removed.
Don't Miss a Big Sunset
The sunsets in Texas are big, bigger than most place. There's nothing better than looking over the desert and admiring the sun sinking slowly. What if you miss the sunset because you're busy handling a water damage emergency? Well, when you call our water damage Fort Worth technicians that won't be a problem. We want you to see every beautiful part of Texas so when you are suffering from a severe water damage fiasco, we are available 24/7. Our representatives are always on standby and ready to bring a tech over ASAP.
Keep the BBQ in the Pit, Not in the House
Barbequing is a common occurrence to the folks of Fort Worth, TX. As you drive along the winding roads you'll surely see some of the best BBQ joints around. With barbeques come fires, so this too we try to keep out of the home. Once a fire damages the home, the hundreds of gallons of water used by firefighters causes major water damage. Water begins to seep into the hardwood and usually an odor stays in the air. When this happens, our water damage Fort Worth staff is here to assist. First we provide a free inspection to check out exactly what has been affected. Then we use industrial strength chemicals to remove any damages. Most importantly, we always keep it safe.