Water Restoration Services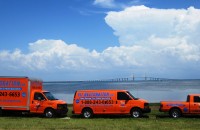 Water damage can really be an awful thing to have to deal with. Fortunately, there are trained specialists that deal with this kind of devastation and damage all the time, so they are prepared to handle the situation quickly and efficiently. If you are personally in need of water damage repair, here are some things that you should look for before you hire a company that you come across.
For one, take a look online and see what other people have to say about a company that you might be considering. Chances are, on the vast internet, there are reviews pertaining to the particular business that you are considering hiring. These will give you insight into what other customers have to say about their particular experiences with the company including: the speed of response, the quality of the work and the professional nature of the employees.
When it comes to water damage repair, it is not something that you can leave up to just anyone. You want to find a company that has likely been around for at least a few years, and has offered their particular services to numerous households or businesses. The experience of a service company will give you peace of mind, while also ensuring that the job is done quickly and correctly.
There is little consolation when many of your belongings and your home has been damaged by flooding or water damage. If you are currently struggling with such a catastrophe, take the first steps by getting in touch with someone who can help you begin to clean up the mess.