Water Damage Kennedale
After a pipe bursts in your kitchen, you need to call the water damage Kennedale experts at 911 Restoration Fort Worth and we will be at your doorstep within 45 minutes, ready to get to work restoring your home.
When it comes to water emergencies, it is critical to your home's recovery to act fast, which is why our Kennedale water extraction crew offers same day services to mitigate the following types of water damage:
Pipe bursts and other plumbing issues

Flooded basements

Crawlspace condensation

Sink, toilet and bathtub overflows

Clogged gutters and downspouts

Roof and ceiling leaks

Storm and other water-based disaster damage

Sewage backups

Fire sprinkler malfunction

Washing machine leaks

Ruptured hoses

Leaking ice machines and other refrigerator issues
We have Kennedale floodwater removal pros standing by and available 24/7/365 to take your call, because we never want to make you wait long for help.
Call our Kennedale flood damage eradication professionals today and we will conduct a free home inspection as soon as we arrive on your property.
Keep Your Kitchen From Springing A Leak
When we are at home, most of us predominately spend most of our time in the kitchen. The Kennedale flood damage operation wants you to be able to cook and eat in peace without having to worry about leaks affecting your time.
Below are some tips from our Kennedale plumbing experts on how to maintain your kitchen, keep it clean and prevent flood damage.
Replace any creaky or loose hardware and adjust hinges if necessary.

Clean out all the cabinets and wipe them down at least once a year. It's a great way to purge out the stuff you haven't used and get organized.

Take a good look under your sink. Remove all the wastebaskets and cleaning supplies to help you spot any leaks, and promptly fix them.

Pull out the fridge and thoroughly clean the entire thing. Check the drip pan for moisture than can potentially cause mold growth.

Re-caulk the seam between your backsplash and wall to keep the moisture out.

Repaint the walls using paint with a tough, semi-gloss paint that will resist moisture.
Call our Kennedale water removal technicians if you do find a leak in your kitchen and we will provide you with assistance you need to get your space as good as new.
We Will Get You Through Any Water Disaster
With the Kennedale plumbing team on the job, you can rest assured that you have licensed, bonded and insured pros on the job that know how to handle anything thrown their way.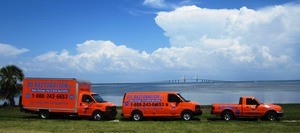 This doesn't only pertain to water damage situations, but to customer service as well. We will be there for you every step of the way to make sure that you get through this tough time.
Anything our Kennedale water removal staff can do to make the process easier you can be sure that we will do, including filing you insurance claim for you.
Call us as soon as you notice even a small leak in your home, and our water damage Kennedale extraction specialists with 911 Restoration Fort Worth will do everything possible to mitigate the situation and get you on the road to a fresh start today!