Commercial Water Damage Restoration in Fort Worth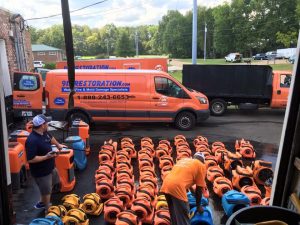 Many people do not realize how many independent retailers in Fort Worth own commercial properties, from leather makers to pottery designers to record store owners and boutique grocers.
All of these business owners are vulnerable to experiencing property damage in their commercial properties either by pipe bursts, plumbing issues, or fires.
911 Restoration Fort Worth understands how important it is to keep your business well-maintained and open for business, which is why we stay available 24/7/365 to take your calls the moment a disaster occurs in your property.
If you are experiencing a water-based disaster we guarantee to arrive at your commercial property within 45 minutes of receiving your call. Getting water extracted from the premises is crucial to preventing more extensive issues, such as:
Mold Infestations
Mildew
Rotting
Rusting
Structural Damages
To make sure that you get the best services possible, our commercial property damage Fort Worth experts work with IICRC certified technicians, so give us a call today.
Fire Damage Can Ravage A Commercial Property
Fort Worth is prone to experiencing wildfires, which can move very quickly and are almost impossible to control once they start.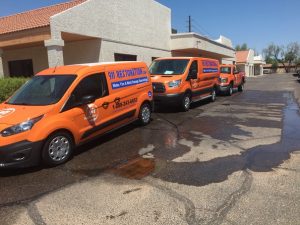 Fire creates its own wind, so when there is additional wind outside and the right amount of moisture in the air, fires can move across a community at a very fast rate.
Fire damage can be detrimental to commercial property owners. Most insurance companies deem a fire-related incident as a total loss, which can be financially devastating to the property owner.
Even though most standard insurance policies do cover some types of fire disasters, the coverage is usually quite limited and does not take into consideration lost wages or relocation costs.
This is why it is so important to purchase supplemental fire damage insurance if you are a business owner in Fort Worth. This will give you the ultimate peace of mind that you will still be financially secure if your commercial property is damaged by fire.
911 Restoration Fort Worth is qualified to repair fire and smoke damages, as well as assist you with communicating with your insurance provider to submit your claim. So, call us when your commercial property has been affected by a fire and we will provide you with a free visual property inspection.
We Will Repair Any Type Of Water Damage In Your Building
Water damage is the next biggest threat to commercial properties aside from fire damage, and 911 Restoration Fort Worth are experts in that field.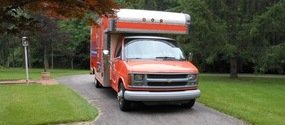 Restoring properties from water damage is our forté. We can repair anything from pipe bursts to flooded basements, and we can do it quickly.
Time is crucial for commercial property owners who use their property as their main source of income. We specialize in using our time wisely to get the job completed as fast as possible without sacrificing quality.
We have been in this industry for many years, so we know exactly how to make the water damage repairs needed to get your property back up and running again in a short period of time.
Making you feel comfortable about the restoration process is important to our entire operation, which is why we place such a strong emphasis on customer service. We will answer all of your questions and do whatever we can to make you feel confident in our services.
So, call our commercial property damage Fort Worth professionals the moment you notice water stains on your ceiling or leaky pipes under your sink and we will provide you with a free estimate today.