Mold Removal in Fort Worth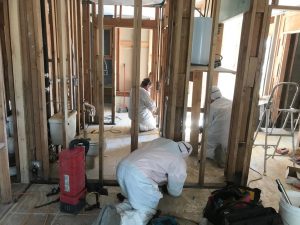 For all the people in Fort Worth, there is only one option to call when it comes to expert mold removal techniques and that is Zach Goldman and his fully trained staff with 911 Restoration Fort Worth.
Mold elimination is a crucial process if there is a contamination event due to the fact that it can cause congestion, coughing and even respiratory problems in those with less than ideal immune systems.
"Our mold removal pros are well aware of how problematic a mold contamination can be, and that is why we take every precaution to keep it from spreading further," Zach says.
To do this, Zach and his crews place plastic wrap barriers between the affected rooms and the rest of the house. This prevents the contamination of those areas with spores that fly around in the air when their colony is disturbed by mold removal.
"We don't want our clients breathing in fungus that may linger in the air throughout the mold removal process," Zach explains, "so we use air filters and control mechanisms that keep the problem localized and contained."
Don't let the lovely home you've built and maintained go to waste with a mold issue that lingers. Contact our mold removal professionals with 911 Restoration Fort Worth today!
Mold Contamination Removal and Infestation Elimination
Zach and his staff are totally dedicated to providing solutions for mold removal and fungus destruction needs to the residents of Fort Worth. Moreover Zach and his teams even want to give people the knowledge that they will need to prevent a mold exposure from ever occurring in the first place too.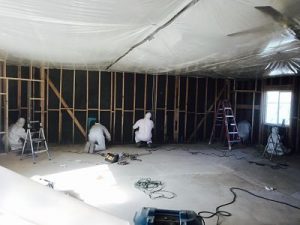 "When homeowners have a water damage problem, a mold removal issue may be close on its heels," Zach explains. "This is because a water damage crisis usually engenders a situation in which mold spores can explode in quantity overnight."
Mold growth can move extremely quickly, and this is why Zach suggests using bleach after a water damage incident if you don't intend to call a restoration professional.
This will help to keep the mold spores that do land in growth prone areas from being able to proliferate as easily.
Another trick for preventing mold removal needs and the growth of a fungus in general is to make sure that any areas of the home prone to excess moisture are given the opportunity to dry out completely.
Sometimes in extreme conditions of humidity, a dehumidifier may be needed to eliminate any additional moisture in the air to prevent condensation and the need for mold removal.
Airborne Mold Damage and Fungus Deserve Extra Attention
Zach and his crews recognize that a mold removal job can be stressful for home and business owners alike. This is because there is a chance that the structure will have to be evacuated so that when the mold is removed it doesn't get inhaled by the building occupants in the process.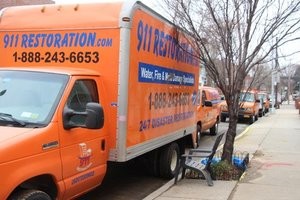 In an effort to make a mold removal situation as easy to handle for homeowners as possible, Zach and his staff go the Extra Mile. They will provide people with temporary relocation services while their mold removal job is being performed.
Beyond this, for every mold removal job that they take on, they will also do all of the insurance paperwork needs for their customers.
This helps reduce the stress of a mold situation because it eliminates the need for a property owner to have to work things out with an insurance agent while dealing with a mold removal event.
Don't allow for the possibility of your wonderful home being infested and in need of mold removal to bring it back from the brink. Contact our mold removal Fort Worth specialists with 911 Restoration Fort Worth and let us take care of everything safely for you today!