About 911 Restoration of Fort Worth
Our Business
911 Restoration Fort Worth isn't simply a restoration industry expert, we are an organizational powerhouse with a diverse background of experience and professionalism.
We try to help everyone and we always make sure that the customer is our top concern at all times no matter what job we're doing.
If you have a water damage crisis, sewage backup, fire and smoke issue, mold contamination, or any other form of disaster, then our team of experts with 911 Restoration Fort Worth should be the ones you call today!
Water Damage Prevention Tricks That Save The Day: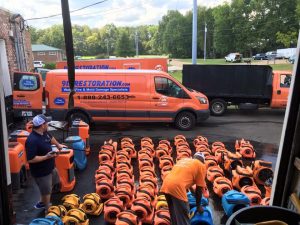 With our water removal specialists always at your service, there isn't anything to ever worry about. But there are always ways to prevent the worst from ever happening in the first place.
911 Restoration Fort Worth professionals agree, one way that homeowners can prevent damage from a water crisis is to stop it from ever occurring. One way to do this is by making sure to have a professional camera scope the pipes of your home every year or so. This will help with the identification of any clogs that have built up.
Another element that helps homeowners avoid such disasters is to direct the outflow from downspouts and gutters away from the base of the home. This sidesteps pooling by the foundation which is one way that water finds its way into the home.
The Fort Worth staff also believes that taking the time to properly seal old windows can also be a great way to prevent disasters. Over time the paint and sealant that holds window panes in place erodes and this results in a reduced capacity to prevent water intrusion.
No matter what, the best way to make sure that your home is safe from any form of disaster is to call the experts with 911 Restoration Fort Worth. We will do an inspection in all the trouble areas. If you're having a water damage issues, then contact our team today!
What To Expect From The Best Water Damage Team:
The 911 Restoration Fort Worth staff knows that saving a home from water damage, especially the kind that has recently afflicted the Houston area, isn't simply about extracting water and removing soaked drywall. It's also about making sure that the property owner is stable and understands what has happened and what will happen going forward.
Taking care of the restoration work is never a problem, but sometimes making sure that the property owner is in the right state of mind after a disaster event like the Houston floods, can be a challenge. That's when our team of highly trained, customer service oriented professionals truly shine.
911 Restoration brings a heightened level of understanding to each job that we take on. The first priority forever has and always will be the customer. So if you want to give yourself and your home a Fresh Start, then call our water damage restoration crews with 911 Restoration Fort Worth today!