Water Damage Granbury
After water seeps into your home during a storm, you can call the water damage Granbury workers at 911 Restoration Dallas and they will get to work pumping water out of your home, drying the area and repairing the source of the problem.
We guarantee that we will get to your door within 45 minutes or less, ensuring that your wait time is as minimal as possible.
Our Granbury water disaster professionals are trained to repair all types of water damage, such as:
Washing machine overflow

Ruptured hoses

Flooding

Leaky shower pan

Ice machine Malfunction

Burst Pipes

Roof leaks

Sewage backups

Appliance malfunction

Water heater explosions
With us on the job, you can be sure that you will get same day services, which will reduce your chances of growing mold and wood rot.
Call our Granbury flood mitigation team today and we will make sure both the workers and homeowners understand the scope of the damage by giving you a free home inspection.
Keep Your Basement Clear Of A Water Invasion
With all of our years of experience in the home restoration industry, our Granbury flood damage eradication operation knows that the basement is the part of the home that is most susceptible to flooding.
In order to keep you and your family safe, we want to offer some advice on how to protect basement from experiencing water damage and other problems.
Check for dark stains that could signal plumbing problems. If you find any leaks, get them fixed immediately.

Check your ductwork for leaks that are wasting energy.

Aside from floods, the basement can also catch fire easily, usually because of the washer and dryer being kept down there. Clean the lint out of the dryer vent regularly. Not only will you prevent a hire, but it will help the machine will last longer.

Caulk and seal basement windows to stop water and air leaks.

Keep your pipes insulated to prevent pipe freezing and bursting in the winter.
It is important to get your home cleared of all water quickly after it has been flooded, which is why we always bring sump pumps, wet vacs, air movers and dehumidifiers to every job.
Call our Granbury water cleanup experts when your basement floods and we will fix the problem at the source and extract all the water today.
Our Water Damage Team Take It Upon Themselves To Keep You Safe
When you are ankle deep in water it can be an overwhelming time, which is why our Granbury leak repair staff does all they can to ensure their customers' wellbeing.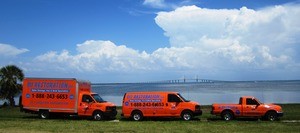 We want you to know that we are here to help you with whatever assistance you may need. Whether it be understanding the work that needs to be done on your home, or figuring our your insurance policy, we will be there for you.
In fact, we will even file your insurance claim for you, submitting all the information needed to get you the financial aid you need.
Our Granbury office stays available 24/7/365, where we have service agents standing by ready to dispatch crews to your home.
Call our water damage Granbury emergency specialists with 911 Restoration Fort Worth and we will make sure you get the affordable water damage restoration services you deserve today!